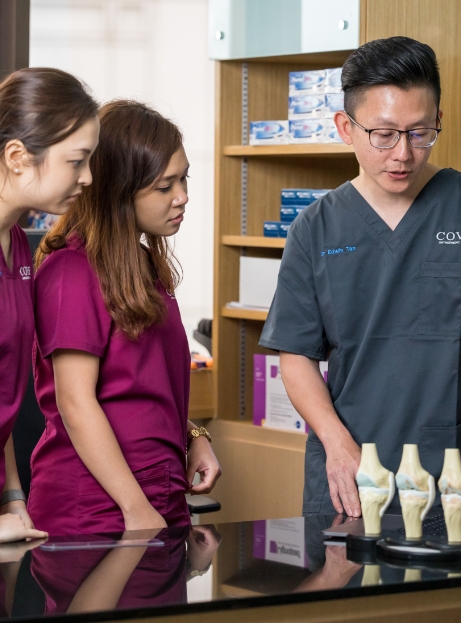 Reconstruct.
Repair.
Regain.
At Cove Orthopaedic Clinic, our utmost importance is in helping our patients maintain or regain the mobility that they deserve, all through excellent patient care right from the start. Happy and satisfied patients are what keeps us going.
'Cove' symbolises a safe & tranquil shelter for all patients, who are protected under the safe hands & expertise of our doctors. The orthopaedic doctors at Cove treat a comprehensive range of musculoskeletal disorders in both the upper & lower limbs, orthopaedic conditions related to trauma & sports injuries & even complex surgeries such as reverse shoulder arthroplasty, revision surgeries, advanced arthroscopic techniques & minimally invasive surgeries.
CONTACT US
Dr Edwin Tan has been one of, if not the highest volume surgeon performing the Reverse Shoulder Arthroplasty, a unique surgical procedure for complex shoulder problems.
Meet our Orthopaedic Specialist
Dr Edwin Tan
Consultant Orthopedic Surgeon
Dr. Edwin Tan is a Consultant Orthopaedic Surgeon. He graduated with a Bachelor of Medicine and Bachelor of Surgery from NUS in 2004 and was awarded the postgraduate Membership of the Royal College of Surgeons of Edinburgh in 2008, the Masters of Medicine in Orthopaedic Surgery in 2013, and the Fellowship of the Royal College of Surgeons of Edinburgh in Orthopaedic Surgery in 2014…
read more